Penghui Property Management
---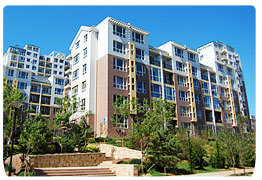 Founded in 2002 with a registered capital of RMB 5million, Dalian Penghui Property Management Co., Ltd. provides property management and service to medium and high grade residential areas and high-rises. As a Grade III corporation, as well as a member of Dalian Property Management Association, we are armed with the complete facilities for modern property management.
Under the company is Engineering Maintenance Dept., House Management Dept., Cleaning Dept., Heating Supply Dept., Public Security Dept., and Afforestation Dept. We employ more than 108 staff to cover three residential areas---Penghui New Century, Penghui Epoch, and Penghui Holly Home.
With tenet of "Owner foremost, comfortable service", we take an initiative to explore new thought, method and mode of property management, to expand service scope, and to build professional service team in addition to satisfying clients. Furthermore, we carry out computerized management, strengthen technical training to staff, improve integral quality and service quality, and enlarge the input of technology to improve intelligent management level, through which we have reached housing management rate of 100%, heating rate of 98%, maintenance rate of 100%, and residents' satisfaction of over 98%.
Penghui New Century was awarded "Dalian Top 10 Residential Area" and "Liaoning Star Building" in 2002, and "China Healthy Residential Area" in 2003 by China Real Estate Association.